Sources close to the company insisted it did not have the contents of the secret report but the firm was being proactive to explain to a jittery market how the Senate standing committee on economics process worked.
The Labor-led Senate references committee is not a government-led legislation body and has relatively little influence on changes to policies or laws, a fact not well understood by investors who are on edge about the pending report.
The Liberal minority on the committee will publish a dissenting report.
The planned analyst conference calls offered by Afterpay for Wednesday afternoon did not materialise, but some investors drew their own conclusions that the report must have negative ramifications for buy-now, pay-later firms.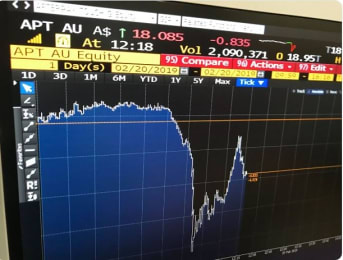 'Chinese whispers' caused the selling
One institutional investor said, "Chinese whispers" had caused heavy selling in Afterpay, whose shares had been up almost 60 per cent since the start of the year.
Afterpay shares plunged as much as 11 per cent in less than half-an-hour on Wednesday morning and edged 2.5 per cent lower on Thursday to $17.01, amid market speculation that the imminent report could lead to a regulatory crackdown.
About 3.5 million Afterpay shares were traded on Wednesday, more than double the daily average of the past two weeks.
The Australian Securities and Investments Commission confirmed it was looking into the unusual trading.
ASIC's market surveillance team has stockbroker identifier numbers for unusual trades and can request who was the underlying client buying or selling shares.
Afterpay executives and external lobbyists, including former Liberal staffer David Gazzard, have been in Canberra this week lobbying politicians and journalists to explain how its product is not risky like high-interest pay day lenders such as Cash Converters.
Afterpay does not charge interest, is similar to "laybuy" and prohibits people using the service if they fall behind on their payments for an earlier purchase.
Separate bipartisan legislation stalled in the Senate proposes giving ASIC tough product intervention powers to deal with risky financial products, including extending the powers to the buy-now, pay-later sector.
Afterpay is comfortable with being regulated under this proposed regime.
Zip 'very much taken aback'
A competitor to Afterpay, Zip, on Thursday posted 114 per cent revenue growth to $34.2 million and reported over 1 million customer accounts, triggering an 8.2 per cent share price rally.
Zip chief executive Larry Diamond said he was "very much taken aback by" the big share price movements by Afterpay and others the day earlier.
"We haven't received any information, any draft report or anything like that at all," Mr Diamond said. "There is a lot of fiction running around at the moment."
A stock broker, Bell Potter's Richard Coppleson, told clients in a note on Wednesday night that Afterpay "was smacked" by investors.
"The reason seems to be that – the company was calling analysts to let them know they are ready for whatever recommendations are in the report expected on Friday from the Senate Economics References Committee's inquiry into the Credit and financial services targeted at Australians at risk of financial hardship," he noted.
"They have no idea (nor anyone else) what will come out of that report – but they were just reminding the analysts that the report is coming out."
Well-connected lobbyists
The fast-growing Afterpay has amassed a powerful coterie of well-connected advocates including Mr Gazzard, Sydney-based media affairs consultants Sue Cato and Brett Clegg and former economic adviser to prime minister Kevin Rudd, Andrew Charlton, who has written economic reports that are favourable to Afterpay's business model.
Initial media reports speculated that politicians or their staff on the seven-senator standing committee on economics might have leaked a draft report that was confidentially circulated Wednesday morning shortly before the shares plunged.
It is understood the share price fall was spotted by a political staffer and immediately reported to the committee's secretariat.
Members of the committee, led by Labor's Jenny McAllister and which includes three Labor members, two Liberals and two Greens, declined to comment on Thursday.
An Afterpay spokeswoman said it did not comment on share price fluctuations.
"Afterpay looks forward to receiving the Senate Committee Report on Friday and will respond after reviewing the contents of the Report," she said.
Afterpay chief executive Nick Molnar told a Senate inquiry in January that he supported reforms for ASIC's intervention powers to be extended to cover the buy-now, pay-later sector and create a regulatory framework for the different business models within the same industry.
"In addition to this, one of the main areas we would seek the assistance of the parliament and regulators is corralling the industry so we can better share information around the positive and negative behaviours of our users and understand when people are using multiple products inappropriately," he said.
"We are confident the right regulatory balance can be struck for new products such as Afterpay to ensure consumers get the best outcomes with the best protection."