Police handed over a brief of evidence to the Commonwealth Director of Public Prosecutions for consideration of criminal charges over the leaks last year, but in January the court was told that no action was expected.
The dark art of political media spin was laid bare in court in Melbourne on Monday when the trial involving the AWU against the union watchdog and federal police kicked off. Senator Cash is expected to be on the stand to answer questions as early as Friday.
Maurice Blackburn, for the union, claims that the media adviser for the Registered Organisations Commission, Mark Lee – also set to appear this week – was keen to appease Senator Cash, as he sought to obtain a media role in her office.
"The website has been updated," the ROC's Mr Lee texted Senator Cash's media adviser Mr De Garis on October 20, 2017, about the ROC's investigation after the pair spoke over the phone.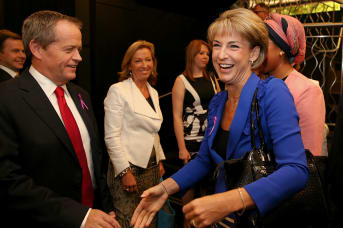 "Can you text me the link I can't find it," Mr De Garis wrote back. "Perfect," he texted again after the link was sent, according to the documents subpoenaed for the case and read in court, after which Mr De Garis said he called The Australian newspaper's Brad Norington to confirm the investigation.
Mr Borenstein told the judge that "what we want to show here is her [Cash's] office were connected to the people in ROC and through her office was showing a keen interest in what was going on".
The court also heard that Senator Cash sent two letters of referral to the commission in relation to the AWU in the months before the investigation was launched.
The AWU has brought the case against the ROC to shut down its investigation into whether $100,000 in AWU donations to GetUp! – where Labor leader Bill Shorten sat on the board until 2006 – are within the union rules.
Several other payments by the AWU – the union previously led by Mr Shorten – made between June 2006 and June 2008 have also been investigated, including to Mr Shorten's election campaign.
The union is also seeking to embarrass Senator Cash as it claims that improper political influence over ROC executive director Chris Enright sparked the investigation.
In an infamous Senate estimates hearing the day after the police raids in October 2017, Senator Cash was forced to correct the record that her office was not aware of the raids and announced the relevant staff member, Mr De Garis, "has resigned".
At a later hearing Mr Enright – also expected to appear in this case – was also questioned about his independence following a conversation during a break in the hearings where it was claimed Labor was "getting pretty desperate".
The stop-start trial proceeded slowly on Monday as defence lawyers repeatedly threw roadblocks in front of Mr De Garis' evidence on the basis of privilege and relevance.