Over the past six months, Penn has been relentless in his attacks on the NBN's wholesale pricing policy. He escalated the criticism this past week by claiming the entire retail broadband industry was unsustainable and more retail service providers would go bust.
Penn's attack on NBN is really aimed at pressuring the Labor Party to take a massive write-down on the NBN should it win government in May. If he is successful in his campaign and wholesale prices are lowered it is possible Telstra will be able to lift its profit margins.
Rue has resisted responding to Penn. He did not feel it was appropriate for the government-owned supplier of wholesale broadband to be having a crack at its largest customer.
Also, he has no power to change wholesale prices. The prices were set by the government six years ago with the objective of making a profit of $3 billion in the year to June 2022.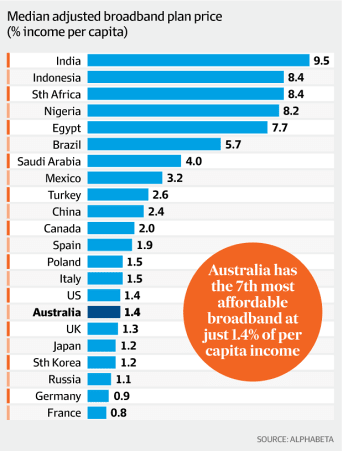 Indirect response to criticism
A profitable NBN could be sold or decide to invest earnings back into upgrading broadband technology.
When Rue releases NBN's half-year results on Monday he will indirectly respond to Penn's criticism with the release of a specially commissioned report which puts a different perspective on Australia's broadband pricing.
It concludes that Australia has the seventh most affordable broadband of 22 countries based on broadband prices as a share of household income.
Rue commissioned the report from Andrew Charlton's economic consultancy, AlphaBeta, after Penn distributed a report by international telco consultants, Ovum.
The Ovum report said Australia had the fourth most expensive broadband plans out of 26 markets. This ranking was for 25-50 Mbps plans.
Charlton tells Chanticleer that his work confirmed the accuracy of the work done by Ovum. He says his findings are different because he uses a larger sample size and he strips out a range of services bundled into many plans overseas such as cable TV, mobile or fixed line services and other valued added services.
AlphaBeta adjusted the quoted prices in the 4578 plans in 22 countries by extracting the value of additional features and inclusions and isolating the value of the broadband alone. It takes this "naked" broadband price.
Ovum converted all its broadband prices into US dollars as well as converting prices at purchasing power parity. Charlton says the simple US dollar comparison can simply lead to the trivial conclusion that the price of broadband is higher in richer countries.
He wanted to avoid the Balassa-Samuelson effect, an economic theory that refers to the tendency for consumer prices to be systemically higher in richer countries because of higher productivity and wages.
Charlton says it is important to bring a different lens to the debate over broadband prices including taking account of relative incomes. On that measure Australian broadband is affordable relative to other countries.
TONY BOYD