Bendigo Bank disappointed the market with weaker than expected first-half results on Monday. The result saw the bank sold off sharply, ending 76¢ or 6.8 per cent lower to $10.39 on a day where all the banks fell 1 per cent or more.
Bendigo Bank said first-half net profit was down $28.5 million or 12.3 per cent to $203.2 million from $231.7 million on the previous corresponding half. Analysts said the result was propped up by the benign credit environment where bad and doubtful debts continued to fall to just 8 basis points.
Ms Baker said that although she thought Commissioner Hayne's phonebook-sized final report was considered and extensive she was concerned it didn't go far enough in some areas. She noted similar inquiries had found the lack of competition across the sector as a key contributor to many of the system's woes.
"It's very clear that if you don't have an even playing field that is conducive to competition you will get things like the oligopoly we have here in Australia that enabled people to use market power in a way that hasn't produced the best outcomes for customers," Ms Baker said.
The bank is pushing for advanced bank status, which will reduce its cost of funding. It said it had made good progress on its goal but "there was considerable scope for the government to supplement the recommendations with pro-competition initiatives".
Bell Potter analyst TS Lim said it was a tough half for the bank with the majority of its metrics going backwards, with the exception of its capital strength or CET1 ratio as it pushes to meet the regulators definition of unquestionably strong.
Underlying cash profit was $5.5 million, or 2.4 per cent, lower to $219.8 million from $225.3 million on the previous corresponding half against expectations for $225.5 million.
Revenues at the bank were $52.7 million, or 6.3 per cent, lower to $790.2 million from $842.9 million against expectations for $819.3 million.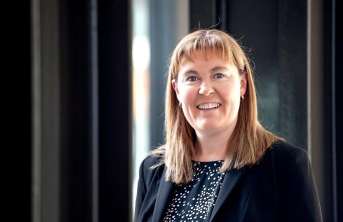 Weaker than expected
The bank's first-half results were weaker than expected due to higher wholesale funding, intense competition, investment and a series of one-off costs.
Analysts at Citi pointed out cost growth of $18.7 million, or an increase of 4.2 per cent, was "well ahead of forecasts". The bank sheeted the rise in costs back to salary increases, software and legal costs relating to the royal commission.
Ms Baker said the bank had taken a $700,000 expense for compensation costs flowing from the fees-for-no-service scandal in addition to the $1.2 million from the previous half. She said there may be more to come but expected any update to be immaterial. ASIC expects Bendigo to return $2.5 million to customers in total.
Housing loan growth was running below the sectoral average known as system growth which is distorted by the inclusion of the big four banks. Bendigo Bank reported housing loan growth of 2.7 per cent compared with system growth of 3.3 per cent.
Ms Baker conceded the bank was targeting a younger demographic which was likely to take some years to pay off.
Bendigo highlighted a surge in customer interest on the back of the royal commission which saw sentiment against the big four banks turn. Customer numbers in December for example were up 18 per cent on the prior corresponding period.
Ms Baker said she was pleased with the uptick but felt there was still a considerable degree of apathy from customers.
"It does concern me when I see people complain [about their bank] and not do anything about it," she said.
The bank announced a fully franked, first-half dividend of 35¢ a share payable on March 29, in line with the previous half. It also reported a 15 basis point rise in its Common Equity Tier 1 ratio (CET1) to 8.76 per cent ahead of expectations.
The bank's net interest margin – the difference between its borrowing costs and what it can charge for loans – fell 2 bps across the group to 2.35 per cent from 2.37 per cent. Stripping out the community bank the NIM fell 3 basis points to 1.95 per cent compared with 1.98 per cent.