The revival in resources stocks is unlikely to be enough to overcome the decline in banking stocks which make up such a significant proportion of the investment portfolios of the average Australian super fund member.
While BHP's latest interim results will be disappointing for those who wanted to see a higher interim dividend the chief executive Andrew Mackenzie made it clear he is determined to maintain earnings momentum through increased cost cutting.
Renewed focus on costs
He admitted during a media call on Tuesday that the unprecedented $12 billion in annual cost savings achieved in the first four years of his tenure as CEO had stalled over the past two years.
Mackenzie says he wants to bring back that cost cutting discipline. Asked about his future as CEO, Mackenzie said he was very positive about what he could add to the business from continuing to lead BHP.
There has been talk that BHP chairman Ken MacKenzie will oversee a change in CEO over the next two years with chief financial officer Peter Beaven and president of operations Mike Henry the two candidates most favoured to replace Mackenzie.
Mackenzie said there is a lot more that can be done by BHP to make its operations more efficient and productive. He wants to run the company like a "Swiss watch".
Capital management has been a prominent feature of Mackenzie's six year period in charge of BHP.
"Our strong balance sheet and fully funded capital investment plans allowed us to return the $US10.4 billion net onshore US proceeds to shareholders in the form of a $US5.2 billion off-market share buy-back completed in December 2018 and a $US5.2 billion special dividend paid in January 2019," Mackenzie said.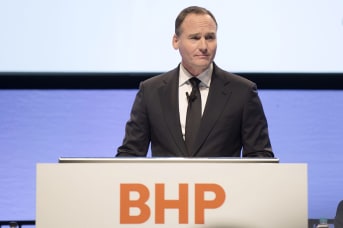 "The board has also today determined to pay an interim dividend of 55¢ per share, which equates to a payout ratio of 75 per cent.
"Since the beginning of 2016, we have reduced debt by $US16 billion, reinvested $US20 billion in the business and returned more than $US25 billion to shareholders. A strong second half is expected to partially offset the impacts from operational outages in the first half, with unit costs across our business forecast to improve."
Mackenzie told the media briefing BHP could not escape the impact of further trade tension between the US and China. He said free trade raises all boats and the opposite is true.
He said an escalating trade war would have a depressing impact upon the world economy.
TONY BOYD
Disclosure: The author's super fund owns shares in BHP.