She aims to bolster her pitch with fresh legal advice that may persuade her Conservative backbench foes and her erstwhile Northern Irish allies the Democratic Unionist Party (DUP) to vote for it.
Her deal proposes a transition period until the end of 2020, or perhaps later, during which Britain and the EU negotiate a longer-term comprehensive trade partnership.
The deal has been rejected by huge margins this week and in January because of its 'backstop' protocol: the interim arrangements to prevent customs checks on the politically fragile border between Ireland and the British province of Northern Ireland, which detractors fear could become permanent.
May's plan
If the Brexiteers and DUP do support her deal, Mrs May would then go to an EU leaders' meeting on March 21 to seek the Continent's agreement to a short Brexit delay – until either late May or late June – to finalise the British legislation and treaty ratification processes required before the transition period can start.
If they don't back her, her threat is to instead ask the EU leaders for a long delay, of at least a year, to rethink Britain's whole approach to Brexit.
This will be anathema to the pro-Brexit group of Conservative MPs, and may draw many into supporting her deal despite their reservations.
EU Council President Donald Tusk on Thursday took to Twitter to support the idea of a prolonged Brexit rethink – a move which he likely intended to increase pressure on eurosceptics to swing behind Mrs May.
"During my consultations ahead of EUCO [the leaders' meeting next Thursday], I will appeal to the EU27 to be open to a long extension if the UK finds it necessary to rethink its Brexit strategy and build consensus around it," he said.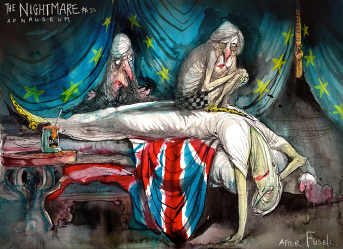 But the voting on Friday morning (AEDT) may complicate Mrs May's plan. Lawmakers might support a proposal to hold a series of votes next week on all the alternative proposals on Brexit, such as a second referendum and various softer or more graduated exits. Or they may try and limit the kind of delay Mrs May can seek.
Boxed in
Mrs May could still present her plan, but the timing may become even tighter. And another parliamentary battering will further shake her already tenuous authority, which is now being sustained only by her personal grit and the absence of any clearcut challenger or means of deposing her.
At the moment, parliament seems to be boxing itself into a corner where it either has to support Mrs May's deal or else accept that Britain is crashing out of the EU with no deal on March 29.
Despite voting against a no-deal Brexit during a chaotic round of ballots on Thursday morning (AEDT), a March 29 no-deal departure is the default option in both British and EU law.
If parliament doesn't back Mrs May's deal or come up with a concrete proposal that prompts the EU to grant an extension, Brexit will go ahead in a fortnight's time.
Britain has been ramping up no-deal preparations, including releasing a set of tariff schedules and issuing a blizzard of preparatory documents.
Other European countries are also in the throes of preparation, with Ireland's parliament having this week signed off a large and complex omnibus bill to prepare for a shock departure.
Meanwhile, President Donald Trump on Friday (AEDT) weighed in to the Brexit debate, saying he was surprised at "how badly" the negotiations had gone and suggesting it "could have been negotiated in a different manner". He also said the debate was "tearing the country apart".