Designed in consultation with the University of Sydney's Charles Perkins Centre, it's the first integrated, multidisciplinary collaboration between an airline and a university around health before, during and post flight.
The transit lounge offers many features designed to ease jet lag, including yoga classes with a teacher from the local Bodhi J Wellness Spa Retreat, light therapy in the shower suites to help adjust the body clock, as well as hydration stations.
In the US, Delta Air Lines offers guided meditation at its Asanda Spa lounges located in its Sky clubs at New York's John F Kennedy, Seattle-Tacoma and Atlanta's Hartsfield-Jackson airports. In a joint venture with Deepak Chopra, his Dream Weaver experience can be booked for 30 minutes for $US30 ($40). It's a light-and-sound experience in which fliers listen to an audio meditation led by Dr Chopra.
In terms of other airlines leading the fitness charge, Singapore Airlines introduced its Deliciously Wholesome meals in 2016 on select flights, offering pointy-end passengers in-flight meals designed by nutritionists to help the body deal with dehydration and long-haul travel.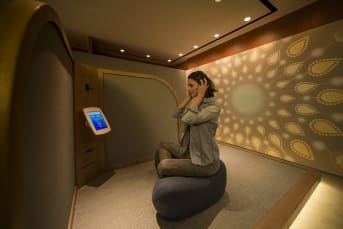 Thai Airways has long offered a more passive solution to relaxed travelling – it's famed for its complimentary neck and shoulders or foot massages in its Bangkok Royal Orchid Spa.
Eco traveller
If you want to carry good baggage, the planet-friendly Dune 74cm trolleycase, $320, from National Geographic and Adelaide's Courier Luggage is made from 144 recycled, single-use plastic bottles.