The minutes showed that board members thought "the outlook had also become more uncertain over the preceding few months" but that "given further progress in reducing unemployment and lifting inflation was a reasonable expectation" there was not a strong case to change rates but instead hold steady and remain a "source of stability and confidence while further progress unfolds".
Dwelling investment decline sharper
But NAB chief economist Alan Oster said the RBA appeared to be trying to allay deeper concerns about the economy.
"What they're sort of saying is that there are some risks on the downside relating to consumption and the construction cycle … but they've [the RBA] argued publicly that if wages get going, people will spend more, then away she goes.
"NAB has 2.5 per cent growth for 2019, the RBA is 3 per cent. The difference between us and them is we see these weakness as a core part of what's going on; they see it as a risk."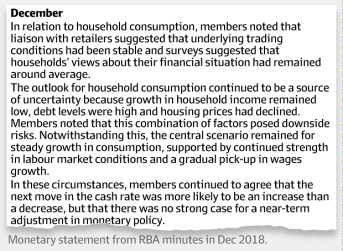 Board members also noted that dwelling investment was "expected to decline more sharply than previously expected, consistent with the decline in residential building approvals and the fall in housing prices".
National property prices are now 6.1 per cent lower than when the market peaked in October 2017. Sydney home prices are down 9.7 per cent in the past 12 months.
The board was presented with a special paper on housing markets indicating that recent home price declines on economic activity was expected to be "relatively small".
JP Morgan chief economist Sally Auld said the "important caveat" on that was the scale and acceleration of house price falls, which the board noted would lead to weaker consumption and GDP forecasts, resulting in higher unemployment and lower inflation.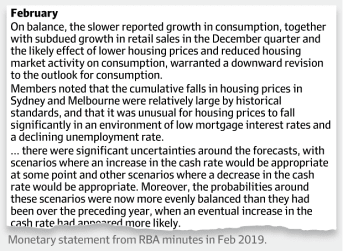 "This raises the prospect of some non-linearity in wealth effects, but also begs the question of how much is 'much further' for house prices," she said.
The minutes revealed that board members had noted the cumulative falls in housing prices in Sydney and Melbourne were "relatively large by historical standards".
While there has been some curiosity about why the full change in position had not been as obviously documented in the decision statement the bank releases on the day, Ms Auld said the minutes, speeches and the quarterly Statement on Monetary Policy "appeared to be the favoured vehicles for articulating forward guidance and greater detail on the bank's thinking around its policy bias".
The board did note that growth in real GDP of 0.3 per cent in the quarter and 2.8 per cent over the year had been "noticeably below expectations".
It's forecast is for the Australian economy to grow by around 3 per cent this year and by a little less in 2020 due to slower growth in exports of resources.