At least you can't accuse him of selling at the peak.
The chief of avocado grower Costa Group sold 825,000 ordinary shares last week, to fund his purchase of some 619,944 options and pay off an income tax bill.
According to Monday's notice, Harry Debney sold for an average of $5.28 a share (netting $4.4 million), and exercised the options for just $2.81 a pop (or $1.7 million overall), meaning he's up $2.6 million. Before, however, much of that goes to the taxman.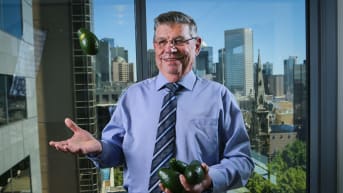 Costa Group was heavily sold after a shock profit downgrade on January 10, and is still trading 29.4 per cent below where it was then (and 4.2 per cent below its price at the half-year results release). Sentiment around the company is still largely positive, with private equity reportedly sniffing around. Though, executives reducing their exposure does tend to give buyers pause. After all, who knows as well what earnings gremlins might still be hiding just out of sight?