A sharp drop-off in revenue from VIP gamblers has seen James Packer's casino giant Crown Resorts report a much weaker-than-expected first half profit.
Crown said on Wednesday that normalised net profit (which removes the impact of gambling win rates) rose 0.9 per cent to $194.1 million. But JP Morgan had expected first half earnings of $221 million.
Normalised revenue from the Australian resorts fell 1.2 per cent to $1.5 billon, well down on the $1.7 billion expected by JP Morgan.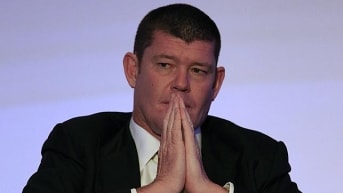 Crown executive chairman John Alexander said VIP turnover play was down 12.2 per cent to $19.9 billion, with revenue from the group's biggest punters falling 11.2 per cent in Melbourne, and 18.5 per cent in Crown Perth, where the group continues to battle soft economic conditions.
"Crown's Australian operations' first half result reflected mixed trading conditions," Mr Alexander said.
More to come