However, the changes the Domain carrying value are based on near-term assumptions, the company said and the medium-to-long-term outlook remains unchanged.
On a statutory basis, this pushed Domain to a loss of $156.4 million in the six months ended December 30, compared with a $3.4 million in the year-earlier period. Revenue was up 65.4 per cent to $186.3 million.
When Domain was spun-off off, Fairfax kept 60 per cent of the company and the other 40 per cent was given to its shareholders. In December 2018, Fairfax was acquired by Nine, which included The Australian Financial Review.
Domain said it has seen its yield continue to grow in the first six weeks of the second half. The lower listings environment has remained, in what has a seasonally low period early in the calendar year.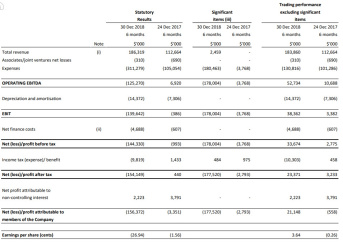 "Our strategy is building a customer-centric Australian property marketplace. We are doing this by supercharging our existing listings business and growing and extending our ability to deliver a broader range of solutions directly to consumers," Mr Pellegrino said.
Total revenue rose to $186.32 million from the year-earlier $112.66 million, the company said in a statement to the Australian stock exchange. Revenue in Domain's residential business climbed 8.6 per cent in the first half to $93.6 million despite lower listings because of increased depth, or sale of premium products to real estate agents.
First-half revenue in the media, developers and commercial segment fell 10.1 per cent to $25.8 million, compared with the year-earlier period. Commercial revenue rose 20 per cent, but weak developer performance in NSW and lower display advertising advertising revenue offset that growth.
Agent services revenue for products such as data, research, customer relationship management platforms, was up 15 per cent to $15.8 million.
Consumer solutions revenue, from products such as Domain Loan Finder, Domain Insure and Compare & Connect, jumped 33.9 per cent to $14.9 million.
Print revenue, impacted by the listings environment, dropped 23.6 per cent to $32.8 million in the first half.