And Incitec Pivot warned that the rail closure between Townsville and its Phosphate Hill facility, as a result of flooding, would reduce its earnings before interest and tax by approximately $10 million a week from February 9 until the resumption of full production. Incitec Pivot fell 2.1 per cent to $3.31.
House and land developer AVJennings blamed political uncertainty, media coverage and a squeeze in credit conditions for a 90 per cent plunge in net profit. The developer's shares fell 3.5 per cent to 54.5¢.
GPT Group was flat, gaining 1¢ to $6.11, upon reporting a 14.5 per cent lift in full-year net profit to $1.45 billion benefiting from revaluations and improved income from its Sydney and Melbourne office assets.
What moved the market
Stock watch: Sandfire Resources
Morgan Stanley initiated coverage of Sandfire with an "overweight" recommendation. The broker says the share price at current levels reflect no upside from exploration opportunities. "The current share price of $7.26 a share is comparable to our base case valuations for DeGrussa and cash alone ($7.06 a share), implying high potential market upside from any Black Butte project or exploration success," analyst Rahul Anand wrote. A one-year extension of the DeGrussa copper and gold mine could be worth $148 million or 94¢ a share. Risks to Morgan Stanley's view include a weaker copper price, production delays, or below-estimate copper grades. The broker's base case valuation is $8.40 a share.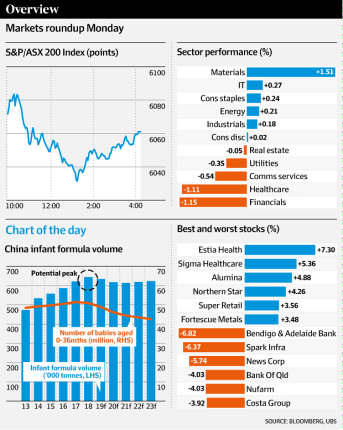 Oh Canada
Canada's economy experienced a surge in jobs growth during January lifting the currency to as high as $C1.33 per US dollar in Friday's trading. Canada's jobless rate jumped to 5.8 per cent last month, from 5.6 per cent in December as the labour force expanded and the economy created 66,800 new jobs versus the 5,000 median economist estimate. "Underpinning this print was solid growth in both full-time and part-time employment, up 31,000 and 36,000, respectively," ANZ strategists said. Hourly wages rose from 1.5 per cent year-on-year to 1.8 per cent and the economy has added an average of 51,000 jobs over the past three months.
Bottled
UBS's China consumer team has taken a more cautious view on the outlook for infant formula volumes in China, and believe total volumes may have peaked in 2018 at around 644 kilotonnes, ending five years of compound annual volume growth of 4.8 per cent. Two factors are holding back volume growth: a declining female population in the 15 – 49 age bracket, and a fading effect from the abolition of the one-child policy in 2016. Births of second (or third or more) children peaked in 2017 at 10 million and are forecast to fall to 8 million annually from this year to 2023. On the flipside, UBS identifies a continuing trend of increasing infant formula consumption by babies.
Iron will
Iron ore prices have surged to $US95 a tonne (based on cost and freight to China) and could exceed $US100 a tonne on supply concerns after the dam collapse at Vale's Feijao mine in Brazil, according to Commonwealth Bank commodities analyst Vivek Dhar. The supply disruption to date is equivalent to around 4.5 per cent of the seaborne iron ore market. Around 2.5 per cent is attributed to Vale's response to the dam collapse as the company looks to reduce production by around 40 million tonnes per annum as it decommissions all its upstream tailings dam. Iron ore shipments from Port Hedland, the world's largest bulk export terminal, rose by 1.7 per cent year-on-year to 41.8 million tonnes in January.
Swiss swoon
The Swiss franc dropped almost 1 per cent at the start of Asian trading on Monday as thin liquidity caused by a Japan holiday led to a mini recurrence of the "flash crash" that roiled foreign exchange markets early last month, Bloomberg reported. The franc slid from 1.0004 per US dollar at around 7am in Tokyo to as weak as 1.0096, the lowest since November, within a matter of minutes before almost suddenly reversing the move to trade 0.2 per cent stronger on the day. The round trip created a trading range for Monday of almost 110 basis points, about double this year's daily average of 56.