For the best part of two years his warnings about a "crisis" at the border have intensified. They have also fallen on deaf ears, not just among Democrats but many Republicans alike.
For all of Trump's Sicario-style imagery in recent weeks of an "invasion of our country by human traffickers" bringing in "thousands of young girls" and kidnapped women with "duct tape put around their face", Congress still believes the money is better spent elsewhere.
There has also been deep scepticism over the president's threat to build the wall using his emergency declaration powers instead. Where is the emergency – something on par with 9/11 or Pearl Harbor – to justify such an act?
Late on Thursday [Friday AEDT] news broke that Trump will sign the spending bill Congress is set to sign shortly to avoid another bruising government shutdown. All he'll get is $US1.4 billion for his wall.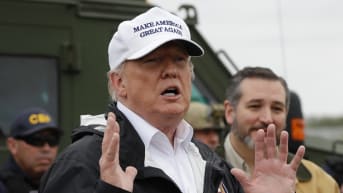 Put simply, Democrats and many Republicans believe there are better ways to secure the border.
No invasion
It's a major setback on par with the defeat Trump suffered at the mid-terms in November. Despite his increasingly strident politicking about "caravans" of Central Americans streaming north, Republicans lost 38 seats and trailed Democrats by almost 9 million votes across the country, the biggest popular vote difference for either party in history, according to the Cook Report.
There were many reasons for the defeat, but one was that many voters simply didn't believe him. Even as he prepared to send thousands of troops to "reinforce" the southern border against an "invasion", the president was called out for over-egging the crisis.
"There is no invasion, no one's coming to get you, there's nothing at all to worry about," Fox News anchor Shepard Smith told his audience eight days out from the vote. "We're America, we can handle it."
Watching from from here how the Manus Medivac issue has played out, it's been easy to lose track of where the latest flood of murderous rapists flooding over borders is coming from.
Trump flew on Monday to El Paso, Texas, on the border with Mexico, for a rally that some analysts said marks the start of his 2020 election campaign.
To chants from his hardcore supporters of "build a wall!",Trump slammed a now dumped proposal by Democrats to cap the number of illegal immigrants in detention.
"That would force the release of thousands of criminal illegal aliens, including dangerous felons convicted of rate, sex trafficking, violent assault, and even murder into our country," Trump thundered before going on to list some of the 266,000 arrests of criminal aliens by border-law enforcement in the last two years.
This tally included, he said, pausing for effect – 30,000 sex crimes, 4000 kidnappings … "and 4000 murders! Murders! Murders! Murders! Killings! Murders!"
Coalition leaders from the prime minister down haven't yet reached such levels of theatrics – but they're not far off, given warnings of rapists and paedophiles about to be set free from Manus or Nauru.
"Unfortunately that's what we're going to get in the future," Deputy Prime Minister Michael McCormack told Sky's Kieran Gilbert and Laura Jayes, who retorted immediately; that's "simply not true" before the hosts pointed out that the law gives the immigration minister veto over such criminals.
Border security is a cornerstone political issue for Americans and Australians alike. But so is decency.
To fair-minded people, overcooking these issue smacks of political desperation. If recent US experience is any guide, taking that road might save your base. It won't win you the election.