When newly listed Coles recut its contract with petrol wholesaler Viva Group last Wednesday, the market was unambiguous in choosing a winner: Viva shares closed up 13.5 per cent. Since the announcement, Coles shares are down 4.7 per cent.
But on closer inspection, for Coles' chief executive (again) Steve Cain, bad news is kinda good news.
At least right now. Because half of Cain's performance shares are measured by total shareholder return based on the start point of the volume weighted average price of Coles shares over the 10 trading days from February 7 to February 18. That's right: from the very day after the Viva deal went to shareholders (it takes effect from March 1). Uncanny. February 19 – as in Tuesday next week – is, of course, when standalone Coles will deliver its first interim result. If there's any more trash to take out before then, you can bet management is looking high and low for it.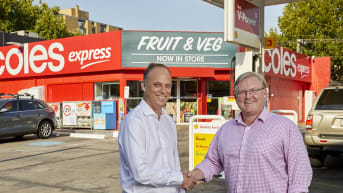 Despite Coles burying the lead behind operational news, Deutsche Bank research puts the FY19 earnings impact on the Coles Express arm at $113 million, but with the prospect of improvement if Viva can – unlike when Coles set the bowser price – grow volumes. "The next year or two will be a period of rebuilding," Viva chief Scott Wyatt told analysts last week. "Over the next year or two that's really going to be our priority: reinvesting in the business, arresting the decline in sales, restoring growth and building the business to that trajectory."
Hey, let's hope it's two years, not one. Two-and-a-bit, even. After all, the size of Cain's performance haul will be determined by the 10-day VWAP of Coles' share price to June 30, 2021. Expect oodles of good news round about then. As promised.